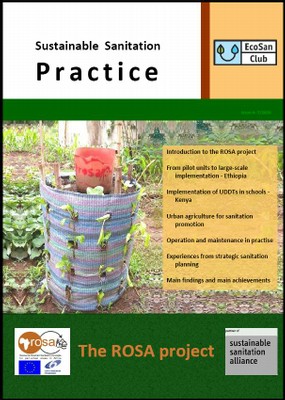 Issue 4 of Sustainable Sanitation Practice (SSP), published by the EcoSan Club, Austria,  is s special issue that presents the highlights and main findings of the EU-funded ROSA (Resource-Oriented Sanitation concepts for peri-urban areas in Africa) project.
Read the full issue
The ROSA project was implemented in four pilot cities: Arba Minch in Ethiopia, Nakuru in Kenya, Arusha in Tanzania, and Kitgum in Uganda.
The 7 papers included in this special issue show specific aspects of the as well as an outlook on future activities. Topics covered include scaling-up ecosan toilets in Ethiopia, urine-diversion dry toilets in schools in Kenya, urban agriculture in Tanzania, operation and maintenance, and the development of Strategic Sanitation and Waste Plans (SSWPs).